MEET THE PRINCIPAL
It is my pleasure to welcome you to this great citadel of learning,an institution of great repute, interested in the educational, moral and spiritual well-being of her students.
At Baptist High School, we implement the fulfillment of the National Curriculum and also provide a broad based Educational Standard to meet the needs of a rapidly changing world of both national and international curricula.
Baptist High School, Lokoja is known for the following attributes which makes her unique.
Zero Tolerance to examination. In this school, students are trained to write examination without depending on anybody right from their JSS one, and this help to build confidence in them as they progress to higher classes. During their external examination they have no need of "expo" from internet or assistance from any teacher. To the glory of God the students results from external examination have been wonderful.
Students Discipline- This is a school that never handle students discipline with levity. If any students violates the school rules and regulations such student will be purnished accordingly, and this has helped to curb the acts of indiscipline in the school.
Notable and Qualified Teachers- BHS is endowed with qualified and experienced teachers, who are always available for their students.
Spiritual and Moral Training- As a school, BHS does not joke with the spiritual and moral life of her students. The school is blessed with a chaplain and Music Pastor.
Guidance and Counsellors Service- The school has a qualified Guidance counsellor who is always ready to help and guide the students to overcome educational, emotional and personal social problem.
Standard Science Laboratory – The school Science laboratory is well equiped with standard equipment and chemicals
Baptist High School is blessed with a Serene and conducive environment for learning. Once again you are welcome. Christ Our Anchor.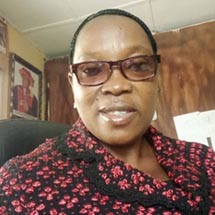 Victoria Olaleye (Mrs)
Principal