PROPRIETOR'S REMARK
You are welcome to Baptist Group of Schools, Lokoja. Our schools are known as 'second to none' in Lokoja and its environs. Since inception, the schools have been delivering qualitative education and producing good students that are educationally sound with good morals.
These schools are endowed with notable and qualified staff whose efforts cannot be over emphasized. As a result, the schools have continued to attract a large number of applicants who termly seek admission into the schools. Every successful candidate for admission should count it a privilege for securing admission in the schools at the end of the screening exercises.
As you enroll to become a student of this school, I enjoin you to follow the footsteps of your predecessors by ensuring that you excel in your academic work.
The information provided by the schools website exists to acquaint you with the norms, rules and regulations guiding academic and moral life in our schools, it will assist you greatly in the pursuit of your career while in these schools, Study it carefully and endeavor to make it a part of you at all time.
Once again, you are welcome and God bless you.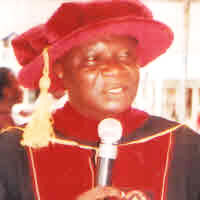 Rev. Dr. Theophilus Akinbode Ajala
BGS Proprietor